In looking through several threads here, and across the web, I've failed to find a
complete
calculator that will assist users in taking several factors at once and putting them into a single calculator. So, I made one.
At the top of this calculator, you have a chart to assist you in determining your transmission gear, based upon your transmission, if you have one of the listed transmissions. I've taken the most common transmissions and placed their individual gears into the chart to assist you in getting your final RPM, which appears to be the most important factor when re-gearing. Nobody wants to be
cruising
down the highway at 3400 Rpms..... that just eats up way too much gas.
Please realize, that an Automatic is also considered a slush box (slang), so you will get some slippage with the Torque-Converter, which may affect your final RPM. However, this calculator is designed to get you close to what you should be expecting.
In this calculator, you can first figure you're tire size accurately, which will be used to determine your overall gear ratio.
As well, once you get your accurate tire diameter, you can enter that number into the provided fields and come up with a RPM based upon your Ring & Pinion, selected transmission gear and the speed your are moving. I didn't pre-populate the tire size field with the calculated tire size, due to some folks running actual 35" tires, or a tire size that is different than what is stated on the tire side wall. We all know that different manufacturers produce different tire sizes, thus, the tire size field is left editable.
I was unable to embed this document, so I've just linked it to a Google spreadsheet.
Please CLICK on the below image to be taken to the document.
This Google Doc gives anybody the ability to edit the fields in
RED
.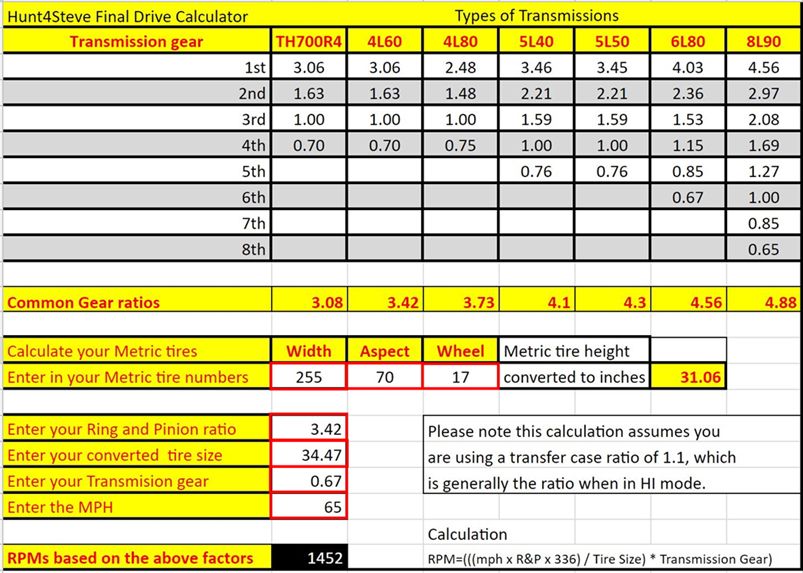 As you all know there are lots of charts out there to guide you in your selection of what gears you should get for your larger tires. And, you all should know these are just guidelines, and it should be noted these calculations are usually based upon a final drive ration of 1:1...... FYI
Hope this can help ya all, and if so, maybe a MOD can make it a sticky...
Because my 2015 Silverado has a 6-speed, I'll be going with 4.56 gears.